The Salesforce  Summer '20 Release was delayed initially due to the COVID-19 pandemic, but we now have solid dates and information about what this update looks like and how it will affect our Salesforce Instance.
Release Dates: Depending on your particular Salesforce Instance, Summer '20 arrives either June 10, July 12 or July 17-18.To determine your exact date, you'll need to look it up on the Salesforce Trust website.
You can see the entire list of updates from this release here in the Summer '20 release notes. We're going to highlight a few that deserve your attention and deserve our applause as Salesforce continues to make the user experience better.
Our focus this time around is on those changes that make life simpler for users at all levels, but especially for those who are simply using the application not, building it. While there are lots of enhancements in this release for developers, admins and architects, the changes that streamline things for the end user sometimes have the biggest impact. Users will notice them and appreciate them right away.
Email Address Internationalization
As Salesforce increases its global presence, the need for internationalization of the email addresses data field seems like an obvious next step. For local organizations with international connections this is a big upgrade. Starting in Summer '20, Salesforce will support Email Address Internationalization (EAI) through UTF-8 encoding so that you can use non-Latin-based language characters in email addresses.
iPad users rejoice!
With the Summer '20 release iPad users will be able to enjoy the full desktop version of Lightning Experience on the iPad using Safari. Again, this is a fairly simple change from all outward appearances, but it will have a huge impact particularly for field work users.
Einstein Search
Einstein Search is now available for no cost to most organizations using the Lightning Experience. What does this mean for you? Einstein Search brings the intuitiveness of artificial intelligence (AI) to searching within the Salesforce environment. Einstein Search gets to know you, your search history and your predictive needs. You'll be able to search in natural language syntax with better actionable results. This is a great change for those users who are not only new to your organization, but new to Salesforce in general. The transition is that much easier!
Service Cloud Voice
This new innovative product was announced at Dream Force 2019 and has been anxiously anticipated since then. Service Cloud Voice will finally link the powerful AI and CRM capability of Salesforce with the telephone communications. Until now a phone call to a service agent meant lengthy look up of past information, multiple screens and quick typing skills to create a "transcript" of the conversation for future reference. Service Cloud Voice begins with a customer call directed to the appropriate agent thanks to the power of omni-channel routing. The selected agent then has the customer's historical data on their console. As the call proceeds, the conversation is converted to text.  Meanwhile Einstein AI gets to work analyzing the conversation and making suggestions for responses and next best actions to the agent. As if that weren't enough, an additional supervisor console lets managers monitor and step in, when necessary, to provide assistance.
The power of bringing voice calls and digital channels together to support agents can help customers at the right time using the channel that customers prefer. Serving customers better with quick, accurate information can only lead to a better sales experience.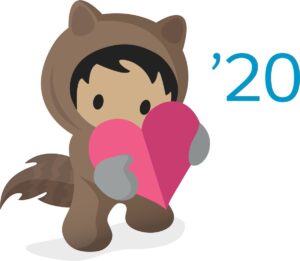 If you've got questions about these Summer '20 features, or any others we are happy to help. If you're a new admin who needs assistance in figuring out how releases work and what you need to do to make things go smoothly for your org, we've got the personnel and experience to help you learn the ropes and take your company to the Next Level.
Get in touch with us today at Cloud Next Level.