If you've read our last two blog posts you have an idea of why an organization would adopt Salesforce Field Service and perhaps even a broad idea of what the service offers.  In this article, we'd like to give you a scenario in which you can see the real benefits of an integrated service system like Salesforce Field Service and how it can give your customers the experience they deserve.
Furnace Breakdown!
If you are a homeowner you know that the most likely day for your furnace to have a problem is going to be the coldest day of the year – or it will at least feel like the coldest day of the year!  BRRR.
You call your local furnace company and explain to a very patient service rep that your 20-year-old furnace isn't working suddenly and you need help. Fast. Your spouse is starting to eye the kitchen table as kindling for the fireplace! The phone rep asks a long series of questions about, make, model, last cleaning (you didn't know you were supposed to clean a furnace!), age of the house, square feet of house…. etc.  After 25 minutes of giving your details, you've got an appointment for Tuesday at 9:00 am.  Not a moment too soon.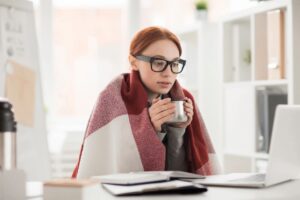 On Tuesday morning you answer the door with your mittens on to the long-awaited service rep at 11:30. Her last call was more complicated than expected so she's two and a half hours late.  O.K.  The service rep askes a long series of questions about, make, model, last cleaning (you didn't know you were supposed to clean a furnace!), age of the house, square feet of house…. etc.  These are all of the same questions you answered on the phone when you called last week. She looks at the furnace, repairs the blower fan, and makes plans to come back later in the day with another part to fix something she calls a weird problem she's never seen before with the widget that attaches to the something or other.  She also mentions that your brand of furnace is not her specialty.  She normally works on Acme Furnaces, and this is the first time she's seen a McFurnace.  When you go to pay for the service call the field tech calls the main office with your credit card information and promises a receipt will arrive in the mail.  The good news is that you've got heat in your house again. The dog's water bowl has thawed and you no longer have to wear gloves while you're reading.
Two weeks later…. You guessed it.  Same thing. Something is not right! You call again. Give 25 minutes of detailed information and set up an appointment for tomorrow morning.  The next day a new to you service rep arrives at your house, asks you a series of questions you've already answered, comments that it looks like you've got a new blower fan, and says he sees that widget something or other problem all the time on McFurnaces.  He says he can do a makeshift repair, but you really ought to start thinking about a new furnace – TODAY.
The third time your widget something or another goes out, you call the sales department at "The Furnace Shoppe" and set up an appointment to get a quote on a new furnace. This call involved 20 minutes of giving information and history of your current furnace and setting up an appointment with a sales rep. The sales rep comes to your house looks at your furnace, comments on the new looking blower fan and the faulty widget, asks a whole series of questions, and begins to write up that quote.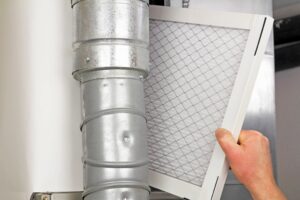 Are you counting? At this point you've given the same information to six different people, none of whom seem to connect with each other.  There's got to be a better way.  This is where Salesforce Field Service shines.
Key Performance Indicators
Every industry has its list of key performance indicators or KPI by which to measure success. The HVAC industry like most has an extensive list of KPI measures. In our Furnace repair scenario, the key performance indicators that could be improved include:
Profit and loss per HVAC truck: What is the profit and loss per truck? Do your repair fees align with the cost of insuring and maintain your fleet? If not it's time to determine if the problem is the number of trucks, the resources on the trucks, or the tech and/or sales staff using the trucks.
Revenue: What is the revenue generated per department of your company? How many jobs do you need to sell per month to get to the break-even point? And how many can your staff efficiently accomplish? Once a company has determined the number of jobs needed to sell and perform to get above break even and make a profit the next set of KPI metrics are more refined and look at how your techs are doing their jobs.
The first-time fix rate is a key driver of customer satisfaction, as well as cost-efficiency. Wrong tools, wrong spare parts, wrong fault diagnosis, wrong engineer skill set—the causes are countless. Most can be managed away through better training, better control, and for our purposes here, a better field service management system.
Technician billable time. It's important to keep a watchful eye on field service tech utilization. How much time does your field tech spend on the job, and how much time is spent driving to sites, delays due to lack of parts or knowledge, or admin tasks like time-consuming billing processes. An appropriate field service tech performance KPI can help you to get a handle on such losses of billable time.
Field service engineer punctuality. Almost as annoying as a field service engineer who doesn't manage to fix the fault is a field service engineer who doesn't arrive on time. Granted, it can be difficult to predict traffic conditions, even with route scheduling software. But a field service management system that tracks punctuality as an engineer performance KPI can help to pin down unnecessary delays.
Upselling rate. Finally, it can be very useful to track individual field service tech's upselling rate. How often do your tech's need to move from a repair situation to a suggested sale? Is your field service management system ready to handle a pivot to the sales department? Have you made it easy for your customers to make a smooth transition between the two teams?
There are lots more KPI metrics to consider of course, but let's look at how Salesforce Field Service can help both your KPI metrics and your customer's satisfaction at the same time.
Salesforce Field Service – Helping You Serve Your Customers Better while improving your KPI
Let's look at how this whole situation could have gone better if "The Furnace Shoppe" used Salesforce Field Service.
That initial call may have looked the same.  You call, give your info and a field service technician is scheduled to come to your home. We all expect a certain amount of history intake when we run into a service problem. From there on out things could look a lot different.
With the Salesforce Field Service resources and skillset tools, you'll be sure to dispatch a field service technician who is not just available, but also familiar with the problem at hand. Your customers will be reassured that you're not wasting their time or yours by sending someone who has never seen their particular product.
Automatic real-time updates make sure you've got a way to be on time every time.  The Dispatcher Console lets you check for issues that require immediate action, track locations of mobile employees in real-time and schedule, or re-schedule, bulk job orders with a single click. If a job suddenly requires someone with a new or additional skill set, you can easily re-route someone to the job and backfill their current schedule. When your original field technician was delayed by a few hours the real-time updates within the Salesforce Field Service managed package make sure you know where all of your technicians are and who can be re-assigned in case of delay or emergency.  If you don't have another tech with the right skill set or asset availability you have a way of contacting the customer right away rather than let them stew about late appointments and their future yelp review!
Asset tracking and management! Nothing is more frustrating than finding out you don't have the particular widget to complete the job at hand.  In the service industry, you can't anticipate every need, but you certainly can track the basics.  If you know that most repair jobs require a certain part, track your inventory, and make sure the trucks your techs are going out in are stocked per their schedules.  Be sure that the parts needed for the job are available in the truck going to the site. Sounds simple, but often this is an area that makes the difference between a good experience and a bad experience for the customer.
Have a knowledge hub available for your technicians.  This is along the same lines as asset tracking.  You can't anticipate every situation, but you can anticipate the most common problems.  Salesforce Field Service gives you the ability to create a knowledge library of known issues and tricky repair hints. Field techs can contribute to it as needed and reference it when they get stuck.
Keep a history of the call and the work already done for the next time. Linking your mobile team through the Salesforce Field Service Mobile App gives them all the data they need to get the job done efficiently. Your mobile techs will see customer information and work history to avoid duplication of effort and optimize the escalation of services when needed.
Accept field payments. This is customer service 101. No one wants to wait around while your service tech calls in their credit card number to the home office.  Field techs can accept secured payments and let the customer get back to their lives quicker than ever.
What if a furnace repair visit turns into a furnace sales opportunity?  Salesforce Field Service can help you there too.  Rather than having your sales team make separate contact with the customer collecting data from scratch Salesforce Field Service allows you to connect sales and service at the click of a button.  Pivoting from service to sales with the least amount of doubling back will help you gain customer trust while saving time for everyone involved.
Interested?  We Can Help
Are you in a service industry that can benefit from the sleek and effective use of Salesforce Field Service?  We can help you evaluate your current system, plan for a change, and implement your new system. Get in touch with us today to talk about taking your company to the Next Level! Our dedicated team of Salesforce professionals can help you convert your current system to a user friendly, and efficient system giving you and your customers an outstanding experience. Contact us today.